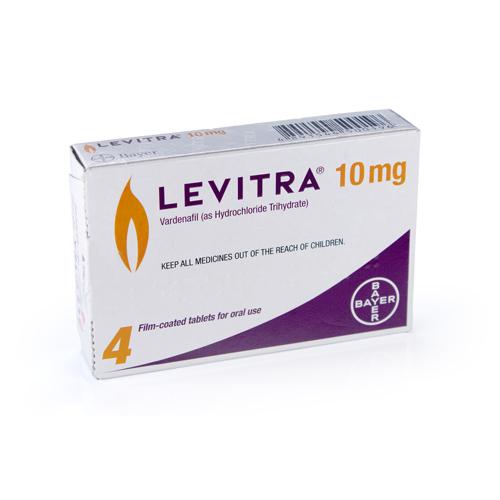 Levitra
Levitra is an oral drug designed to treat male erectile dysfunction. Also known by its pharmacological name of Vardenafil hydrochloride, this drug increases blood flow to the penis to allow an erection to occur. Generally speaking, this drug is both effective and well tolerated, and allows its users to return to a normal sex life. Although it must be taken in advance of sexual activity, it lasts a relatively long time in the bloodstream, allowing its users to enjoy intimacy on a reasonable schedule.
An erection starts with the nerves in and around the penis that receive sexual stimulation releasing nitric oxide. The increased nitric oxide levels cause the body to release a chemical called cyclic guanosine monophosphate (cGMP). This chemical causes the muscle tissue in the penis to relax, allowing blood to flow in, causing the erection. The body uses a class of chemicals called phosophodiesterases (PDEs) to regulate cGMP levels. If PDE levels are too high, they will block cGMP, preventing erection. Levitra blocks the body from releasing the cGMP-specific phosphodiesterase type 5 enzyme (PDE5). Since PDE5 is the most prevalent PDE in that part of the body, blocking it allows erections to occur. Levitra does not significantly block other PDEs, limiting its impact on other body functions.
Levitra tablets are sold in 2.5mg, 5mg, 10mg and 20mg doses. The pill contains a number of other inert ingredients such as colloidal silicon dioxide, microcrystalling cellulose and both yellow and red ferric oxides, which serve as coloring agents.
Most people who take Vardenafil Hcl for their erectile dysfunction experience few, if any, side effects. Some experience mild effects such as stomach discomfort, headache or dizzyness, although these are common with many drugs. At times, Levitra can cause those who take it to have trouble distinguishing between blue and green. This side effect should gradually go away as the drug wears off. To avoid dizziness, Levitra's manufacturer recommends that its users get up slowly when they are sitting or laying down. If Levitra causes a complete loss of vision in either or both eyes, though, the user may be experiencing a more serious side effect which requires immediate medical attention.